Gemini
SL 2| Magic active
She had just gotten done with her last client and was closing the door to the Vet Clinic.
Her hair was pulled up in a french twist and she was dressed in a pair of jeans and boots, a cranberry jacket over it.
---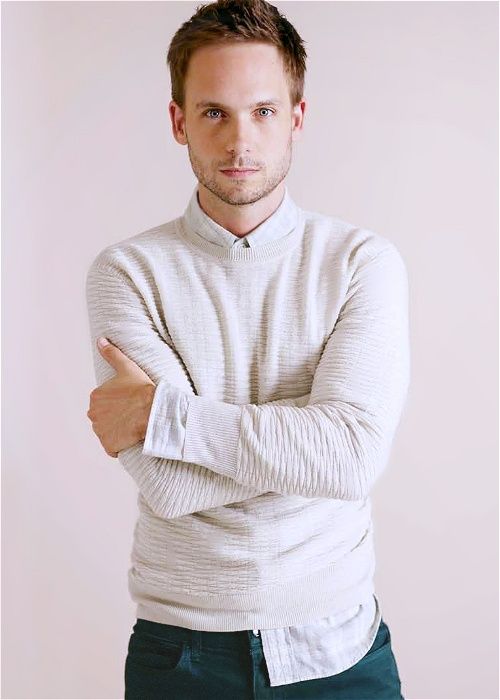 "Solomon"
Gnosis: 1 | Eidetic Memory | Occultation: 3
Had to be careful what you said and did around someone with a photographic memory. You say your name is Trina and you work at a Vet Clinic, look for the closest one to where you met and a couple of tries and here you go. Creepy? Probably but it certainly made an impression. When she walked out he was standing across the street, leaning on a light pole playing on his phone. When he saw her walk out he made sure to give a small little wave, attention still half on his phone.
---
Gemini
She had turned and seeing Solomon wave a brow arched. Was she surprised?
Yes.
She really needed to get Audrey mobile. She lifted a hand and waved back then started to head across the street , she did look both ways to make sure she didn't get run over.
---
"Solomon"
As she walked over he tucked away his phone and placed both feet firmly on the ground. Stuffing his hands into his pockets.
"Hey Trina. Figured I'd stop by since you mentioned you worked at a clinic. Not much of one for animals myself. Care to walk and talk?"
---
Gemini
She stepped up onto the sidewalk and HUGGED him. Then stepped back, it was quick but damn it all she was a hugger
She shrugs "Thats fine, I kind of told you where to find me when I didnt know you remembered everything" She smiled and motioned him "After you. I do need to eat soon so if you want there is a little cafe up the way, Ill pay"
---
"Solomon"
The hug apparently caught him by surprise, with his hands in his pockets and his posture tightening up a bit. He nodded when she offered dinner, like he'd say no to a free meal.
"Yep. Dinner sounds good."
He opened his mouth to speak and then it shut again. It wasn't an easy subject to broach and he had no way of knowing how to do it. Was it best keep up the deception or no? He wasn't sure. Could he just teach himself how this all worked? Independence was hard to put a price on.
---
Gemini
She had started walking and looked up at him and smiled "Your troubled huh?" It was in his demeanor.
Her own hands went into her pockets as they walked. But, when they got to the cafe she pulled them out to open the door and step in.
She asked for a private table in a corner and that was what they where given
---
"Solomon"
He went to answer but confusion gripped and twisted his face, a small exhale exiting his nose as he followed her to the table.
"Yea. This whole thing is new to me, beyond the obvious."
---
Gemini
She sat down and pulled the menu off the table, then opened it. "Well yeah" She looked up at him and smiled "You know. I am not going to bite you unless you ask me to, and then maybe. "
---
"Solomon"
"I don't like rules or structure. I don't like tests. I don't like being kept in the dark. This whole thing grates against my very being and I don't know what to do about it."
He shrugged again, flipping the menu open, flipping to the back, then shutting it again. He didn't need to see it beyond that, it was locked in his mind now.
"I started doing what I did so I wouldn't be beholden to anyone. So I would answer to no one but myself...and well..."
The if I was ever caught went unstated.
---
Gemini
She put her menu aside and crossed her arms on the table leaning forward. "I understand. But the problem is, that there are rules within rules to being what we are. Its working the edge of those rules you gotta find. And unfortunately, to learn...your going to be shrouded in mystery and tested. Anyone who teaches or knows more then you do, is not going to give you information that you haven't earned or worked for to get. We talked about the whole, information issue. That said, earned comes from studying with the mentor. And really your only beholden to them for a while but like anything ..if someone teaches you something useful, you are grateful to them forever"
---
"Solomon"
"See. I don't like that. I don't like any of that. I dropped out of school because I didn't like it and I didn't like being told what to do all the time. It makes my skin crawl, I like being able to do what I want when I want. Reason 1 I don't have kids.
"I like mysteries but not tests. If someone wants something or wants to tell you something they should just come out and say it. You might think it's easier to show then tell then that's fair then support the person and help them through it. I don't see the need for a fucked up shell game of information. IT only causes further confusion.
"I also don't like being beholden to anyone and I might not feel beholden to them. I might like them, I might not feel like I owe them anything. There is a difference. Friends to get better prices."
His speaking was erratic, voice raising and lowering in pitch as his passion shifted like sand. He finished, breathing heavily as he started to go over the menu in his mind again.
---
Gemini
She tilted her head and raised a hand moving it down to tell him his volume was getting a bit up there.
she breathed in "Let me ask you a two questions. One, does the world revolve around what you like and two..is there not honor among thieves? "
---
"Solomon"
"One, of course it does. It's my world, my life, my decisions, so everything is about me to me. Two..."
I reach down and touch my stomach looking back up to her with an expression that might be considered rude. Eyes basically saying what the fuck do you think. He took a deep breath, making sure his pitch stayed lower. Luckily he hadn't said anything secret or related to magic when he started ranting.
---
Gemini
She sighed and shook her head "To thine own self be true" She said "The world does -not- revolve around you. BUT...because of what you are, you can make it be so. As to the other. Because of the rules we set out " She shrugs "It makes it so that the 'honor among thieves' is true if proverbial"
Fucking double speak. She was trying.
"Now...I dont think anyone but a insane person likes tests but sometimes they are needed. And unfortunately coming out and saying it.." She looked around and back at him ..."Sol...what the hell are you trying to say to me?"
---
"Solomon"
"I'm being very true to myself right now."
He couldn't help but laugh at that, the hint of a smile twitching at the corners of his lips.
"IF that was true you wouldn't need cops now would you? Not everything is sunshine and rainbows, human nature is still human nature no matter what package you wrap it in."
He sighed, that came off really jaded even by his standards. Still, doesn't mean it was wrong.
"I feel like I'm being kept in the dark, being given pieces of what I need to know but not everything. I feel like I'm being strung along for some reason and I don't know why. I feel like I'm in a game and I don't know the rules now."
---
Gemini
"Ah I see" She said and to the next part "I mean towards those who teach> No not everything is sunshine and roses"
She nods "You are" She leaned forward and said almost softly "I gave you more information the I would normally because you did well in that cave, and you earned a the right to know a bit. But what your asking is what a teacher can give you and should. "
She looked up "Lets go back to the Vets office, I have a office away from animals and we can talk more pointedly. I do not do well with double speak and I think you need more straight answers as to not be confused.I am clearly confusing you. I will say, am NOT trying to string you along or play games with you"
She stood up "Up to you, would be easier to be able to speak frankly"
---
"Solomon"
When she admitted to keeping him in the dark and that it was a teacher's duty to bring him into the light he sat back with a groan of frustration.
"Makes no sense, you're asking a child to be able to walk before they know the word."
She stood up and he was ok with following her back but he held up a finger.
"...can we get it to go then?"
---
Gemini
She looked at him and sighed "Ill be considered your mentor until I release you If I tell you much more. But I wont lie to you, and I wont use you...Ill be fair and thats more then anyone can ask"
---
"Solomon"
"More about dinner?"
He said with a half grin as she spoke while his mind was entirely on food at this point.
"That's a dumb rule. Those are dumb rules. You can't be beholden to someone for giving them the tools to survive and not hurt anyone else. You also can't expect anyone to agree to those terms before knowing what is going on. I'm no lawyer but even I know that's now how that's supposed to work. "
---
Gemini
She snorted "We can order out"
She shrugs "Okay look. I can't speak to much about it here, Ive told you a lot. Lets go to the Vets office and I will give you more so you have a better idea of what is going on. As I said, I will -not- lie to you"
---
"Solomon"
He nodded, only a small frown on his face as he stood up knowing he'd have to wait for the food now. He'd follow her out not saying a lot, just looking suspicious.
"I feel like I'm taking crazy pills. I know I don't like rules but they should at least make sense..."
He wasn't really talking to anyone, more of an observation he was making to himself.
---
Gemini
"they will make a little more sense after we talk" She said walking with him. She did put in a call from the cafe to deliver. It did not take long to get to the vets, it was only a short trip.
Once inside she shut the door and lead him to the office, pulled a chair out for him and sat down herself
"Okay. So what are you confused on?"
---
"Solomon"
"What!? Everything. Why am I being kept in the dark and being parceled out information as needed.
"Why am I beholden to anyone? Why should I even follow the rules? Why does it even matter? What makes anyone think it's a good idea to give someone pieces of information on something they don't know about and then expect them to make a monumental decision like I don't know, a sacred mentor student bond without seeing the whole picture.
"I fucking hated school. Why would I be anyone's student, I dropped out."
the last bit was said, voice dripped in frustration but again it was more aimed at himself then it was at her. He ran his hands through his hair, taking deep breath to calm down.
---
Gemini
Before she could get a answer out the phone rang. She held up a finger and looked at who was calling before answering. There was minimal talking, just a few, yes. Yes.I didnt know and a sorry, Ill make it up to you. Okay and the a hang up. By the time she was done she was grinding her teeth and closed her eyes.
After a moment she opened them and looked up at him as the phone was slipped back into her pocket.
"Grateful is a better term then beholden. Frankly, you only answer to your teacher until you know the ropes because you can literally blow yourself up. Someone is taking their time to teach you NOT to kill yourself or anyone else around you. To tell you what will cost you your soul and lead you into ennui. THAT is why it matters. You clearly value your life, I value mine. In fact, any awakened you met is going to value their lives and taking on a new mage means its is possible that you could blow them up. Does -that- make sense?"
She stood and stretched before looking at him and putting a hand on her hip "That is why you would follow the rules. YOUR LIFE IS IN DANGER if you do not. Not by me, not by any one else. Not the seers, not the vampires, but YOU, you can kill yourself with magic. You gotta learn how to control it. And you have to learn how to use it.
As to the whole of the laws..know them, do what you want, just dont get caught and try not to lose yourself. Thats pretty much the way it is. But those laws help prevent you getting blown up by another mage you managed to piss off. Stuff like that
As to keeping you in the dark" She leaned forward and looked at him "Perfect memory, remember, YOUR the one who explained how information does not need to be given to those not ready. Recall that?" She shrugs "The thing is" She looked at her phone and looked up at him "Until you learn something, or have something that mages want..and remember I ALREADY told you why Id have a interest in you being with us besides the fact I said we where friends...but, most dont let you negotiate the terms" She breathed in "You lied to me"
---
"Solomon"
"Right and if that's the case why is it so hard to want to teach someone to not point a loaded gun at people? I guess you never know who's going to, I get that, but does it ever hurt to give people the tools to keep everyone safe? I don't get it, especially if it's a safety thing."
I gave a small shrug when she explained the laws. Like any laws they were there to protect people to the best of their ability but it also meant stepping on others, why I didn't much care for them. I wasn't a killer though, I was a counterfeiter.
"Yes I know I explained that to you but I'm also being told to make a decision based on this knowledge. Orders, mentors, factions, politics, and here I am with a pamphlet.
"First part of that sounds like a tool, people need something from you so they use you. Why would anyone allow that? I don't get it. It puts you in someone's pocket and that's the very last place you want to be. Why wouldn't you negotiate terms? It establishes the rules, the nature of the relationship it lets you know what you're getting and what you can expect in return. Seriously why is this such a nasty term. Why is it a bad thing to shop around for the best offer to see what fits someone best. You don't buy sneakers without trying them on and that's not some pseudo-mystical sacred bond thing."
Then she said he lied to her and he crinkled his face up in disbelief, dismissing it almost immediately though his eyes did narrow to the phone.
"When? About what? I want details if I'm being accused."
---
Gemini
"The orders , factions, and politics come later. We -do- try to help newly awakened understand awakened society" Her fingers hit a few text and she sat the phone in her pocket and sighed. "We will talk about the negotiations and whys in a moment"
She frowned and nods "I would too. That was Belphagor. He has been watching you" she rubbed the bridge of her nose "And I now owe him, for stepping on his toes when he had already..ugh" She looked at him and breathed in "You said you had not met any other mages, If I had known, " she shook her head "That said, Sol...no matter what you chose, I said Id be a friend. That WONT change you dont have to hide those kinds of things from me. Gets us both in trouble" She eyed the clock "Should call Orion and see if he can remove any sympathetic threads so its harder for people to track you..." She looked at him "My cabal offered the rite of fostering, its where a cabal adopts a newly awakened mage until you find your place in society...but you cant be getting us in trouble like this"
---
"Solomon"
"Society is a complex construct, hard to teach both."
I shook my head, holding out a finger again.
"Nah. Nuh uh. You don't owe him shit, I don't owe him shit if anything I would say we are more than even. I didn't say that, I said I just found out what I was how would I know? Because I don't know. I have no idea of telling you apart or from the people like you who have tricks. I don't know the difference.
"You didn't know he was trying to teach me guess what, that makes two of us. I'd say there's no breach if there's no knowledge a contract, a pact, an agreement requires the knowledge and acceptance of both parties. This is not the case here."
I gave a shrug and tried to look as innocent as I could. I mean, I've always been nothing but trouble.
"Listen. He eeked out my true name, one after he got me intoxicated, and two before he told me the gravity of such a thing. Should I not be the one owed or does society not protect its children?"
I don't know why I was talking to her like that. Just seemed appropriate, half legal, half political, seemed about right but she wasn't the jury and this wasn't a trial. Not yet at least.
---
Gemini
She started to remove her clothing as he talked, watching him.
"Interesting. You see, you already have the of gist of it. Bordering the line between truth and lie" She smiled as clothing started to fall on the floor.
"Well, see. No. The protection you get is from your mentor or you defend yourself. You do not know enough to protect yourself and I think the only reason that Belphagor didn't actually harm you is because..you have a group that has extended their protection. No one else will now" She looked over at him and shrugs "I wish it was that kind but you need to be strong to stand on your own" She watched him now, nude and her brows rose "You may have hated school because you could glance and know, this is not a human school. That, mind...memory...wont mean much with magic."
The girl stretched and closed her eyes "I prefer a agreement. Others do not and can teach, oddly"
She held up a finger "and just out of curiosity, did...you actually go into the underground world and not tell them who you are, or what you could do, did they trust you right away " Shrugs "just a thought"
---
"Solomon"
One piece of clothing got a quizzical look, then the more she took off the more worried he started to look as he inched toward the door. Stand on your own to protect yourself right?
"Why would he harm me? I didn't do anything, didn't reveal anything, not that I have anything I could reveal.
"Strong I am not. Never have been. How's the song go....Oh right. Clever got me this far and tricky got me in."
She was naked and he was definitely not looking in her direction and still making sure he was a burst of speed away from the door.
"People keep saying that, I keep doubting it. Sounds like a line. What? go to his home and was trusted or like the realm of the dead? In his club I was basically strung along until I met him, met with people like that before. In the River Styx I just followed the ferrymen for his journey and stayed away from the boats edge."
---
Gemini
"You know, normally when I take my clothing off most men dont get terrified. Im not sure if I should be offended or not" She chuckled and watched him. "I am thrysus I prefer to be naked"
She sat back against the desk and crossed her legs.
"You will come home with me, that way you cant be scryed and we will see if Orion can insure your not tapped. Why would he harm you?" she shrugs "I said your lucky he didn't. Some people are petty"
She breathed in "Maybe this will help explain a bit more. You can tell people that you counterfeit. You can even show them your work. Thats free. But you do NOT work for free. Its the same. We would be giving you our time, we would be taking away from our learning to teach and its something we are willing to do. Does that make more sense?" She started to reach over to her desk and stopped "im, going to get my dress since its more comfortable and put it on. Then we will go to see if Orion can insure your sympathetic bonds are erased, that will prevent you being spyed on further. Okay?"
---
"Solomon"
"Yea well I bet most men didn't go spelunking with evil suicide spirits with you either. I know what you and your boyfriend are capable of, either of you could turn me into paste."
I nodded in agreement with her, she was right some people were just petty. But it didn't make any sense, murder was still a mage crime right?
"Yea that sounds like a good idea to me, I don't like feeling like big brother is watching all the time. Now that you've explained it like that, yes it makes sense."